...
is in Boston
. I know I've been remiss (actually remiss-and-a-half) in my originally-stated "I'll be blogging about Tall Ship™s (since I at least know about them) while I blog about trying to figure out the contemporary world." All right, I never said that, but it's a swell sentiment, isn't it? And gosh, look: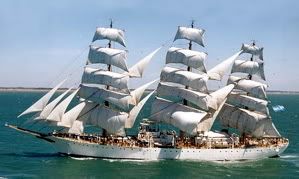 La Libertad is the Argentinian Navy's sail training vessel, and before you start with the "Argentina has a Navy?" stuff, I'll remind you that they have submarines.
This is probably as a good a time as any to hop aboard (just pretend you're in Galway):
La Libertad
is a re-e-e-eally long (301') full-rig ship. Ship-rigged vessel.
Ship
. That was commissioned in 1962 and has won
Japan's National Institute for Sail Training's Boston Tea Pot
several times. I admit that I have never heard of this The Boston Tea Pot.
That Boston Tea
Potty
, yes. But if the U.S.C.G.
Eagle
has won this trophy, it must be legit. But a little, erm,
random
. The winning ship is the one that covers the most sea in 124 hours. Go ahead, look at the
Tea Pot website
. (It was not written by Yoda. It was translated for those who cannot enjoy the poetry that is Japanese sail-talk.)
The beauty of a neat trophy like The Boston Tea Pot is that you get to keep it on board until someone else wins it. Which means you have a real physical manifestation of your bragging rights that serves a useful purpose.
You can actually make beverages in it.
Welcome to Massachusetts, Che!